Get Well Flowers
Let CHERYL'S SECRET GARDEN of Lynchburg, VA help you send get well wishes to your friend or loved one. Show them how much you care with a get well gift basket filled with a floral arrangement or customized get well gifts. A basket filled with snacks, bath products, unique jewelry and accessories, or a favorite stuffed animal is a great and easy way to cheer up a loved one. Top off your personalized gift with a fun balloon bouquet. Wanting something a little more traditional? There is no better or simpler way to remind someone that you're thinking of them than with get well flowers from CHERYL'S SECRET GARDEN. Scroll down to browse and order online from our sample selection of get well flowers and plants or call to customize a gift for that special someone. Let CHERYL'S SECRET GARDEN of Lynchburg, VA help you wish a loved one a "Get well soon".
All flowers are not always available. In the event we are not able to acquire the exact flowers for an arrangement, substitutions of equal value will be made and arrangement will be as similar as possible.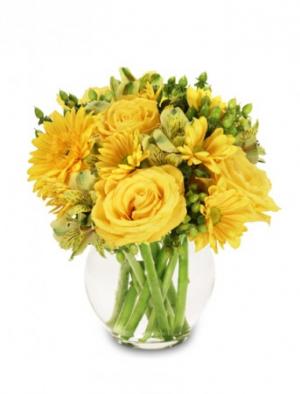 Sunshine Perfection
Floral Arrangement
Talk about a ray of sunshine! This bunch of yellow roses, alstroemeria and gerbera flowers in a simple vase is a burst of happiness. Let this flower arrangement spread some sunshine to the perfect people in your life.
Hospitals and Health Care Providers in Our Delivery Area:
---

Name
Address
Phone

---

Avante At Lynchburg
2081 Langhorne Rd Lynchburg, VA. 24501
(804) 846-8437
Camelot Hall Of Lynchburg
5615 Seminole Ave Lynchburg, VA. 24502
(804) 239-2657
Carrington
Po Box 2526 Lynchburg, VA. 24501
(804) 846-3200
Centra Health
1920 Atherholt Rd Lynchburg, VA. 24501
(804) 947-4700
Grace Lodge
Po Box 820 Lynchburg, VA. 24505
(804) 528-0969
Guggenheimer Nursing Home
1902 Grace St Lynchburg, VA. 24504
(804) 947-5100
Henley's Home For Adults
98 Bocock Rd Lynchburg, VA. 24501
(804) 528-3417
Heritage Green Assisted Living Community
200-201 Lillian Lane Lynchburg, VA. 24502
(804) 385-5102
Hillcrest Apartments
3000 Birchwood Dr Lynchburg, VA. 24501
(804) 528-0373
Lynchburg General Hospital
1901 Tate Springs Rd Lynchburg, VA. 24501
(804) 947-3000
Mammography Center
1900 Tate Springs Rd # 1 Lynchburg, VA. 24501
(804) 947-4048
Mayfair House & Eden Pines
201 Lillian Ln Lynchburg, VA. 24502
(804) 385-6077
Meadows
2315 Yorktown Ave # 100 Lynchburg, VA. 24501
(804) 845-6666
Medical Care Ctr
2200 Landover Pl Lynchburg, VA. 24501
(804) 846-4626
Oaks Of Lynchburg
2249 Murrell Rd Lynchburg, VA. 24501
(804) 846-6611
Odd Fellows Home
600 Elmwood Ave Lynchburg, VA. 24503
(804) 845-1261
Runk & Pratt Residential Care
20212 Leesville Rd Lynchburg, VA. 24502
(804) 237-7809
Slagle Home Inc
3209 Memorial Ave Lynchburg, VA. 24501
(804) 845-1636
St John's Nursing Home
3500 Powhatan St Lynchburg, VA. 24501
(804) 845-6045
Valley View Retirement Cmnty
1213 Long Meadows Dr Lynchburg, VA. 24502
(804) 237-3009
Virginia Baptist Hospital
3300 Rivermont Ave Lynchburg, VA. 24503
(804) 947-4000
Virginia Retirement Specialist
505 Church St Lynchburg, VA. 24504
(804) 847-4088
Westminster Canterbury
501 Ves Rd Lynchburg, VA. 24503
(804) 386-3500
Williams Home Inc
1201 Langhorne Rd Lynchburg, VA. 24503
(804) 384-8780
Bedford County Nursing Home
1229 County Farm Rd Bedford, VA. 24523
(540) 586-7658
Campbell Rest Home
1350 Longwood Ave Bedford, VA. 24523
(540) 586-0825
Carriage Hill Retirement Ctr
Po Box 1132 Bedford, VA. 24523
(540) 586-5982
Elks Lodge National Home
931 Ashland Ave Bedford, VA. 24523
(540) 586-8232
Oakwood Manor
1613 Oakwood St Bedford, VA. 24523
(540) 586-2441
Otterburn Inn Home For The Age
Po Box 927 Bedford, VA. 24523
(540) 586-9404
Runk & Pratt Residential Care
812 E Main St Bedford, VA. 24523
(540) 587-9387
Smith House
1342 Longwood Ave Bedford, VA. 24523
(540) 586-5301
Alterra Clare Bridge
208 Gristmill Dr Forest, VA. 24551
(804) 385-8506
Summit
1019 Vista Park Dr Forest, VA. 24551
(804) 316-5900